Pass the Love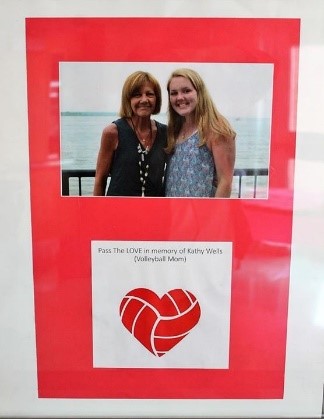 This past Wednesday, October 11, 2017, the Lyme-Old Lyme High School volleyball team hosted its annual fundraiser, complete with bright decorations and a table of food. Every year, the team plays in a special game called Dig Pink. During the game, the team sells baked goods and t-shirts, and all the profits benefit research for breast cancer because October is breast cancer awareness month. However, this year the team gathered together to support a cause that hit a little closer to home. 
This summer, Kathy Wells, mother of sophomore volleyball player Katelyn Wells, passed away suddenly. The team rallied around Katelyn during the difficult time and decided to dedicate the fundraiser to support Katelyn. The event was called Pass the Love, a play-on-words referencing the volleyball skill, and all were encouraged to "pass the love" to honor the memory of Kathy Wells. The gym was decorated with signs, balloons, posters, and many team members braided heart designs into their hair to show their support for Katelyn. All the proceeds made during the game benefitted the Katelyn Wells Scholarship Foundation, which was a total of over $2,100!! The team and Katelyn would like to express their thanks to anyone who supported Pass the Love.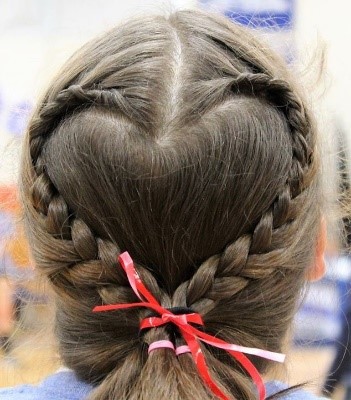 When I asked Katelyn if she was willing to share a little bit about what the fundraiser meant to her, she happily obliged, saying, "I'm very happy with the way the day went and I think that it was such a beautiful fundraiser to remember my mom. I miss her every day and I know that she would have loved to see the team playing volleyball in honor of her. I'm so thankful to everyone in Old Lyme who donated by buying baked goods or a T-shirt, and I'm also so thankful to all the families and parents who made food for the bake sale and were able to come. That was the most people I have ever seen at our games and I was stoked. Also, thank you to my team and my wonderful coaches for the fundraiser; it couldn't have been more perfect. Lastly, thank you to my teammates for everything you do for me, and I'm so happy to have such a big, beautiful volleyball family." 
Although the team came up short of a win, the girls fought hard, remembering the important cause they were playing for. Wells herself played a fantastic game that night, scoring both a kill and an ace. The support and love seemed to radiate through the gym as the team played, and there was no doubt that we could feel the passing of love as we rallied around an incredible friend and teammate and honored the memory of her mother.  
View Comments (2)