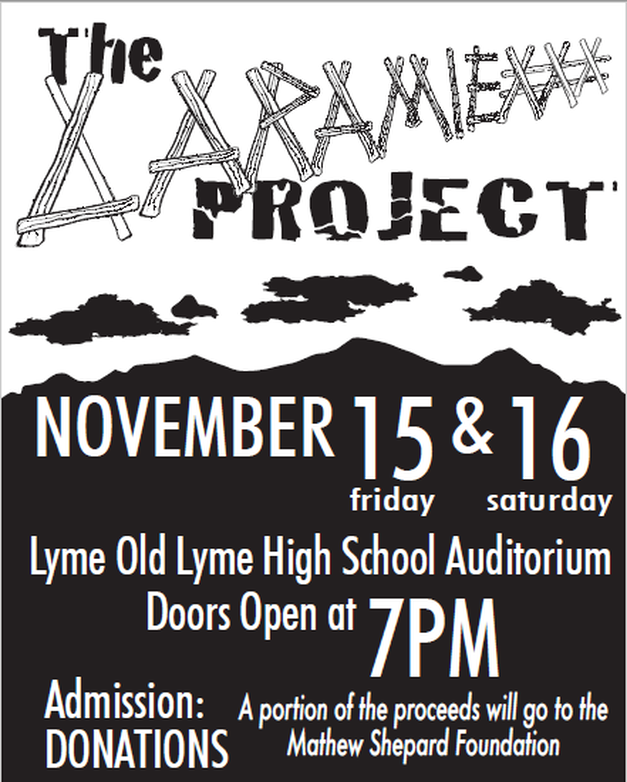 As many of you may know, this year's fall play was The Laramie Project by Moisés Kaufman and the Tectonic Theatre Company, which opened Friday, November 15th, and closed on Saturday. The show takes place in Laramie, Wyoming after the brutal beating and murder of gay University of Wyoming student Matthew Shepard; it tells his story while following the trial of Aaron James McKinney and Russell Arthur Henderson, the two perpetrators.
As with any of Lyme-Old Lyme's amazing shows, many enjoyed a wonderful performance from a terrifically talented group of people. But, unlike other shows, this play doesn't necessarily have a true storyline ore lead roles. Instead, it is composed of a series of interviews, journal entries, and more–from over 60 characters.
Going into the show as part of the cast this year, I was initially skeptical. I kept thinking, "it's my senior year and we aren't even doing a 'normal play.'" I was a bit nervous because I had never done a show like this and I didn't know what to expect. I thought it would be much harder, and more awkward, to do a show where there is no "storyline" per se, and where the characters rarely interact with each other on stage. As quickly as my fears arose, they dissipated. I was excited to work with our director, Mr. Eckhart, and to reap all of the benefits of being a senior.
As soon as the production was underway, I was much more relaxed. Throughout the show, I had a fantastic time. The whole cast, though very small, has had so much fun and so many laughs together. We have a super fun cast; and although the show is rather heavy, we have worked through the tough content together and still managed to have a good time.
One of my favorite parts of this show was our involvement with the Matthew Shepard Foundation, an organization created by Judy and Dennis Shepard, advocating for awareness against hate crimes and violence. We participated in the heart challenge, in that members of Spectrum handed out paper hearts for audience members to write kind thoughts on and hang on a fence in the commons. Our greatest involvement is that all ticket purchases were by donation, and all proceeds went to the Matthew Shepard Foundation.
The show, and just the whole experience, was outstanding. We were all pushed out of our comfort zones in the best way possible. I will miss being a part of this production more than anything, and I am so grateful that I got to work with such amazing people and such an awesome director. Thank you so much to everyone who came to see us!!