CT Cookie Company
Hang on for a minute...we're trying to find some more stories you might like.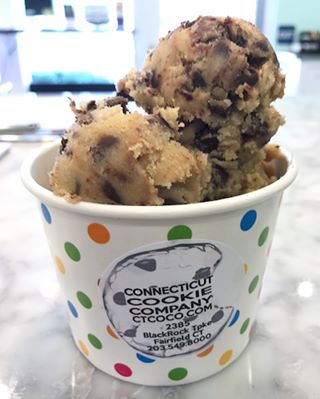 On Saturday, I was driving back from an interview at Fairfield University when I came upon a sign: "We serve edible cookie dough!" I was immediately intrigued. The shop was called the CT Cookie Company, and it was in a plaza on Black Rock Turnpike. The owner of the store came up with the idea to open a cookie shop because she frequently baked them for her friends and coworkers and always received compliments on her baking ability. I knew I had to stop and try some cookies for myself. When you walk in, you are surrounded by blue and pink walls and decorations: the kind of appearance I imagine a cookie shop would have. The display counter has various assortments of cookies and other sweets, from plain old chocolate chip cookies to pumpkin spice donuts. In the back, employees are making cookie dough , which comes in about six flavors. I chose to buy a warm chocolate chip cookie, and was not disappointed. It was certainly fresh, and there was a perfect ratio between cookie and chocolate chips. My companion had a peanut butter chocolate cookie, and was very pleased with it as well. Overall, the shop had a cute and welcoming atmosphere (and it smelled great as well), and most importantly the cookies were delicious. I would definitely recommend stopping by if you are in the area and if you are in the mood for a sweet! I will definitely return when I am in Fairfield again. My Yum Sum rating is 4.5/5.
Check below for the shop's website!
https://ctcoco.com/
They are also on Instagram, Facebook, Twitter and Pinterest!
@CTCookie