First and Last Tavern
Hang on for a minute...we're trying to find some more stories you might like.
On Thursday January 18th, LOLHS students were almost at the end of their midterms, and many were painfully dreading their last exams, while at the same time they were ecstatic that this arduous week was almost over. In order to overcome the stress of taking my two exams, I decided I needed to treat myself. Middlesex County always organizes an annual restaurant week where they whip up some specialties that encompass a three-course meal, and the price is fairly cheap and is equal to the year it is. For example, the restaurants that participate all have three-course meals that are $20.18, while some have additional options that are $30.18.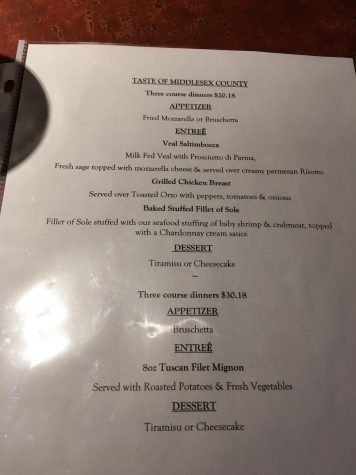 Since I am a broke high-school student that pays for gas weekly, I decided to go with the cheaper option. First and Last Tavern's menu in Middletown had the best options by far, and I decided I would fare best there. There were two appetizer choices, three meal choices, and two dessert choices. I ordered the bruschetta which included a thick piece of garlic bread topped with roasted tomatoes, onions, and mozzarella cheese. Now, let me get one thing straight: I was a little leery of going to a tavern for a fancy three-course meal (because taverns don't necessarily have a luxurious connotation), however I was pleasantly surprised with my first course. The bruschetta didn't look lame, and it definitely didn't taste like it either. Unfortunately I was too hungry to remember to take a picture, so what the bruschetta looked like will have to be left to your imagination. Secondly, I ordered the veal saltimbocca topped with mozzarella and served over parmesan risotto, with a side of sauteed garlic spinach. Again, I did think I was taking a risk ordering such an authentic Italian dish at a tavern, but yet I was surprised once again about how great the dish tasted! The veal was very tender, had lots of flavor, and the portion size was perfect for a small person like me. I was very grateful for the smaller-than-average portion size, however, because I was then confident that I could finish my dessert. Lastly, I ordered the tiramisu, which happens to be my favorite dessert. When it arrived, the piece was of generous size, and I could tell it was homemade. The cream center was not overwhipped, the bottom had the perfect ratio of ladyfingers to espresso, and there was the perfect amount of cocoa powder glazed on top. After I took the first bite, I knew that it was one of the best tiramisus I ever had.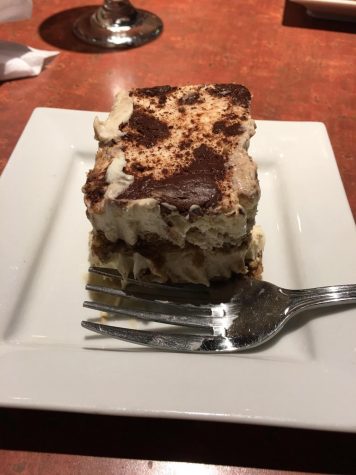 Overall, I was pleasantly surprised with First and Last: although it is a tavern, the food is very high quality and the atmosphere is elegant and inviting. I give this restaurant a Yum Sum rating of 5.5/5. I would definitely recommend this restaurant if you are in the area, or if you are willing to drive a half an hour out of your way to try some authentic, delicious food.