The Daily Show with Trevor Noah-Impressions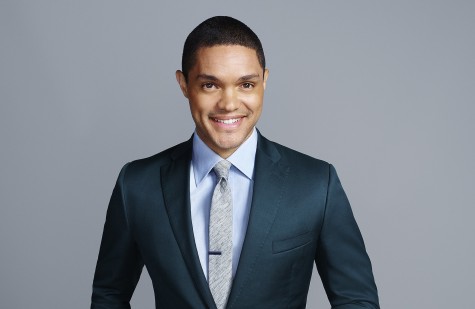 On September 28th, 2015, the first episode of The Daily Show with Trevor Noah aired. This was the first episode in fifteen years not to be hosted by Jon Stewart. The change in hosts has left many skeptical of whether or not Noah will be able to hold his own as a Daily Show host. Jon Stewart found the perfect mix of news and comedy that appealed to many. While Trevor Noah certainly is still finding that zone for him, he is doing a great job so far and has a strong presence on screen.
I had never seen much of Trevor Noah's stand up comedy before, but from what I've seen he is not likely to shy away from controversial issues. I enjoy his new perspective on things. Trevor Noah comes from South Africa and this provides for some very funny moments on the show. Noah also, as did Jon Stewart, knows when it is not appropriate for humor (Trevor Noah opens the Thursday show on a somber note about the recent tragedy in Oregon). He also has a team of correspondents that all bring even more humor to the show. Jordan Klepper returns, as do most of Stewart's team of correspondents before his departure, with new correspondents Desi Lydic and Roy Wood Jr. The Wednesday deep dive featuring both Klepper and Roy Wood Jr. was incredibly funny and shows that everyone on the show is giving their all to make The Daily Show as good as it can be.
As I mentioned, Trevor Noah is still growing into this type of comedy as he was previously a stand up comedian. In the first episode some jokes fell a little flat but I still laughed. Although I loved Jon Stewart and was incredibly sad when he announced he was not going to host the show, Trevor Noah is proving to be a worthy successor. He is very aware of the circumstances surrounding his replacement of Stewart and pokes fun at them while also making the show his. Once Trevor Noah has had more shows under his belt he will find his comfort zone and the show will be even better. The Daily Show with Trevor Noah may not be the same quality as it was with Jon Stewart, but it is getting there. So far each episode has been funnier than the last and Trevor Noah does not feel out of place despite the fifteen years of Jon Stewart before him. I will definitely keep watching this show and if you were a fan of The Daily Show with Jon Stewart, you most likely will as well.