La Marea
Hang on for a minute...we're trying to find some more stories you might like.
After a long Friday this month, I went to La Marea in Old Saybrook for an elegant dinner. It was a place that I always wanted to try, mostly because whenever I pass it, customers are struggling to pull in and find a spot in the parking lot because it is so packed. So, my dining companion made a reservation for two at 6:00, not too late but not too early either. When I walked in, I was pleasantly surprised by the design and layout of the restaurant: everything was newly updated and there were lots of wood decorations and accents. There were also two dining rooms, one with booths and one with tables and a fireplace, that emanated a cozy feeling throughout the restaurant. The waiters were also dressed up in dress pants and shirts with ties, so just by looking at this place you knew it was fancy. After I was seated, I browsed the menu and noticed there wasn't a huge selection of dishes, but the ones that were shown sounded tasty anyway. I ordered the Pacheri Alla Genovese, which is a pasta dish with small chunks of veal and beef, carrots, peas, onions, and cheese in a white wine sauce. It was delicious not only because it tasted good, but also because it was nothing like any other pasta dish I've had before. Being Italian, I could tell that this was authentic Italian food that was carefully prepared. My dining companion ordered the Risotto con Gamberi Rossi E Limone, which was lemongrass risotto topped with wild red shrimp in garlic, oil, and herbs. I had one bite and liked that dish as well because it was somewhat sweet, and the dish was still Italian without being overwhelmingly drowned in sauce. Also, by the time our dishes arrived (around 6:45), the restaurant was packed. Maybe it is because I am always hungry, but it did not take me very long to finish the dish, which was kind of surprising because I am a slow eater. In addition to these scrumptious meals, I decided to order a cappuccino and Pots de Creme for dessert, which was like chocolate mousse with mascarpone and raspberry puree on top. The cool mousse was refreshing yet delectable at the same time, and the cappuccino had the perfect ratio of espresso, milk, and foam. I forgot to take a picture of the mousse before I dug in, but here's a picture of about half of it.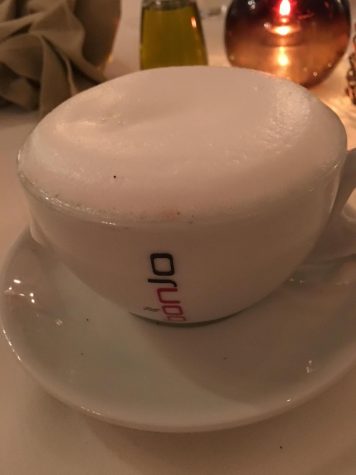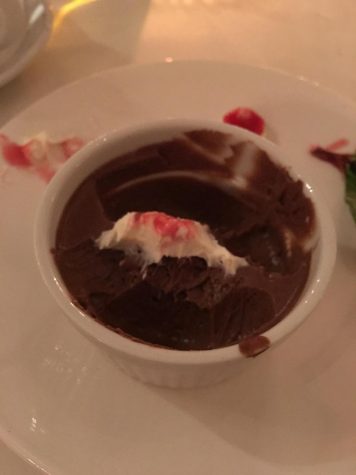 As you can probably tell, I definitely enjoyed my meal and would love to come back here. The only hindrance from making this restaurant a typical stop is the price: the meal above cost $100 with tip. However, don't let that hold you back from coming here when you have the time. My Yum Sum rating is 5.5/5.
Here is the link to La Marea's website: http://www.lamareact.com/#menus