Meet the Choirs Concert 2018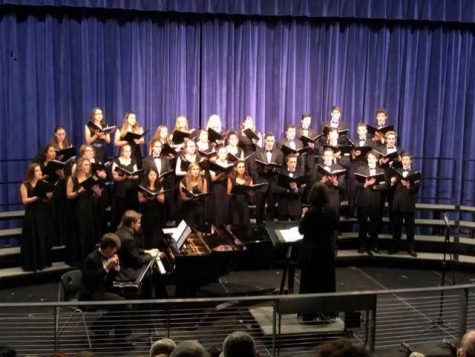 On Tuesday, October 23, 2018, the LOLHS Music Department hosted its annual Meet the Choirs Concert. The concert features multiple ensembles from the high school as well as the eighth grade chorus, which allows the middle school students to be exposed to the high school music program. Not only do they get the opportunity to perform songs individually, but they also get to sing with the high school students.
"I think that when the eighth graders hear from and sing with the high school it gives them confidence and hope for high school that could make them want to keep singing," says junior Concert Chorus member Jaqueline Malizia. "I remember hearing high school groups in middle school and thinking that one day maybe I could be as good as them."
Chorus concerts are always a special experience for students. Although concert preparation can be stressful, performing is always an exhilarating experience. "It's really crazy to think that was our last Meet the Choirs Concert," says senior Chorus Co-President Jacob Olsen. "I've been doing them for years now, and it's weird to think I won't have another concert like that. But it was still a lot of fun, especially considering I got to sing on the same stage as my younger brother for the first time!"
The next chorus concert is just two short months away, so the students got right to work the next day in class learning new repertoire. For the seniors, there's only 3 concerts left in the year. It's hard to believe how quickly the year is flying!
Leave a Comment