We Skipped Our Lessons to Teach You One: The New York City Climate Strike
When Conner, Andre and I emerged from the subway and into the Financial District in New York City, there was immediately no doubt about where we needed to go or who we needed to be with. Intertwined among starched suits, tourists, and taxis, clusters of our coevals moved up the street towards Foley Square. Their hands carried posters depicting melting globes, flaming oceans, and various slogans, all condemning the inaction of the United States government in making true progress in climate-related legislation and regulations. As we crossed streets and made our way up, the cells of protesters merged to create an exponentially growing crowd. The official march didn't begin until noon, but the voices of the people already filled the streets with energetic cacophony. 
Foley Square had already begun to choke up by 11:30 AM, packed with high school students, indigenous peoples from as far as Ontario, grandmas who had been activists since the 70s, babies sporting "Climate Strike 2019" onesies, and every kind of person in between. Even a few suits from Wall Street stepped off their route to work to join the crowd. The rally cries came in waves, creating a patchwork of chants against corporations that refused to cede to the climate crisis, songs about our frustrations with the government's inaction, and unanimous calls to action. Around 12:45, the crowd began to ease downtown, enveloped in the speeches of climate activists speaking from a small stage. Teenagers on top of trashcans and stop lights created archivolts about the crowds as we moved downtown, while the NYPD watched stoically from afar. My doctor, a conservatively dressed but liberal-minded woman, told me that she hadn't seen the youth be such a powerful force of change since the Vietnam War. As the procession swept me up in movement and voice, I realized that she couldn't be more right. Everyone in the 250,000-person crowd was united in frustration with the government's inaction and in our collective motivation to enact change. Somewhere in the crowds, Greta Thunberg led us spiritually and physically to Battery Park, at the very bottom of Manhattan. 
In the 1.2 miles that we marched, it was certain that our anger was heard. Employees peered at us from their day jobs, marveling at the never-ending procession that packed Broadway from curb to curb. My friend Adi, who works at 1 Liberty Plaza, told me that she could hardly believe how the people just kept coming, how every time she looked up, protesters continued to replace the spots of those ahead of them. Andre, Conner, Liz (a friend from the New School who joined us), and I arrived at Battery Park around 2:30 PM, where it seemed like every person there was part of the Climate Strike. At the front of a stage, the crowds collected to await the speeches from numerous climate activists, including Willow Smith and Greta Thunberg. The heat flared their cheeks in a way that seemed so inappropriate for three days before the first day of Autumn, but also in a way that so accurately represented the reasons we were all gathered there. 
Greta's speech was short yet incredibly poignant: "We will do anything in our power to stop this crisis from getting worse. Even if it means skipping school or work because this is more important. Why should we study for a future that is being taken away from us, that is being stolen for profit? Some people say we should study to become climate scientists or politicians so that we can in the future solve the climate crisis, but by then it will be too late; we need to do this now!" Her speech was broken there, with the second announcement that someone suffering heatstroke was in need of medical attention. 
Each sentence she spoke was staccatoed with roaring cheers, applause, and approval. Her speech resonates with an entire generation that, in her words, "is waking up." She finished with her most known and most powerful line: "Change is coming, whether you like it or not."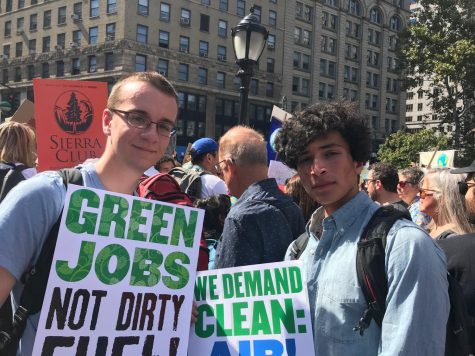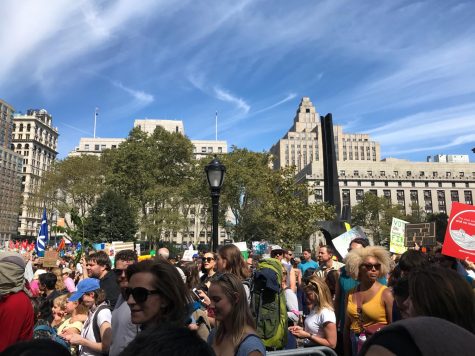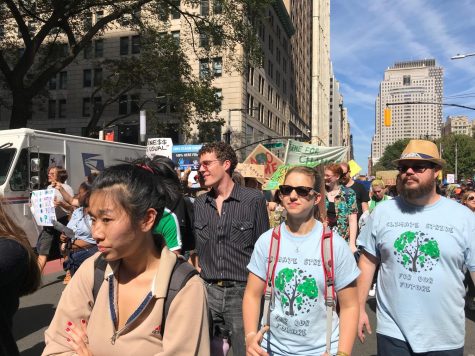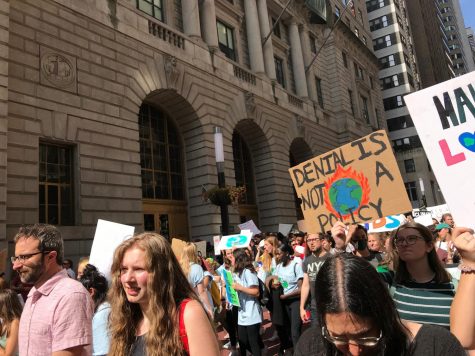 Leave a Comment