The Patch
Why so many people painted pumpkins, and the pumpkin shrine on Lyme Street.
If you have driven past the Lyme Academy recently, you'd have to be seriously zoned out to not notice the giant pyramid of hay and gourd in the middle of their driveway. Well, interestingly enough, the shrine did not appear there on its own; the Academy, particularly Kimberly Monson, reached out to our schools to organize the event. Hundreds of pumpkins were sent to the different art teachers of Region 18 for students to paint or carve.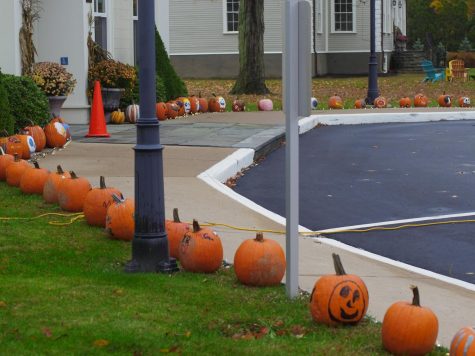 The display is called The Patch, and the event took place from 5-8 PM on Halloween night. This may be the first time the school and the college have collaborated on this scale so successfully. LOL students of all ages enjoyed participating; "I just like painting" said second-grader Harry Miller. Personally, I had an absolute blast slapping an acrylic Hulk face onto a squash. The Patch was a great opportunity for kids to be creative and have a little break from a busy school day.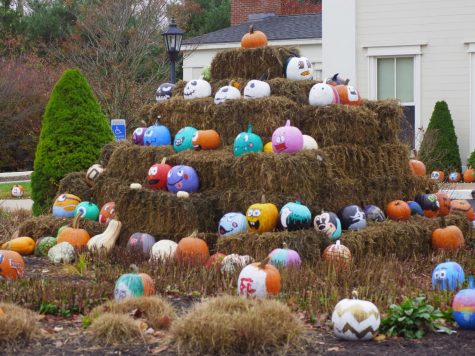 Almost as much as painting them, walking around the colorful jack-o-lanterns was also very enjoyable. There was a near overwhelming quantity of pumpkins, some were simple, some had cool patterns, a few looked like Mike Wazowski; there were ghosts, mummies, and monsters; some pumpkins featured memes, some had very impressive portraits, but certainly no two were alike. Seeing all the pumpkins, I got a sense of the different ways Old Lyme students think and express themselves.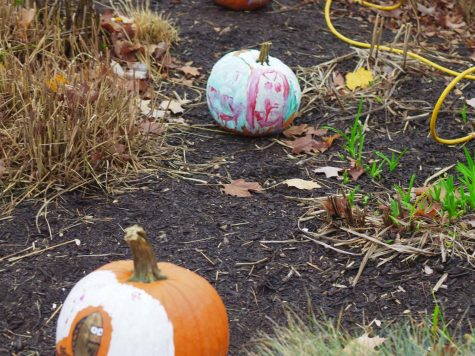 The Patch presented a rare chance for our school to show who we are to the town in a genuine way, and it's also nice to see how well working with the college can go. Hopefully the success of this year's pumpkins will motivate the powers that be to have this event, or something like it, again next year.
Leave a Comment