On the Prowl! Late-Night Owl Expedition
This past Monday, members of the Environmental Club took a quick trip into the woods to look for local owls. When the sun had set, the group met at the open space of the McCullough Farm property. Alongside the students were science teachers Heather Fried and Dawn Kelley, and Old Lyme Land Trust member Andrea Fenton attended the prowling session. 
The Owl Prowl was guided by an ornithologist from the Old Lyme Audubon Society, who provided insightful knowledge on owls and quirks. Owls feathers are different from other bird feathers; there are comb-like serrations on the leading edge of the wing feathers that break up the turbulent air that typically creates a swooshing sound. This advantage leaves the owls silent in flight, and more successful in hunting. 
This time, they were on the lookout for barred owls, saw-whet owls and great-horned owls. With this knowledge, they were excited. "I'm ready to prowl!" exclaimed group member Lyla Powers. Headlamps equipped and binoculars in hand, the group eagerly made their way through the Tree in the Gap trail, keeping their eyes peeled for any movement. They were introduced to the call-back method, where he would play owl calls from a speaker and wait for a response. He tried various calls in various locations. The calls started with the smallest owls, and progressively got to the bigger ones. If the great-horned owl – the largest owl – was called first, all of the other owls might be scared off. These owls are known to eat anything, including other owls. 
The sky was so clear that the moon illuminated the woods. It was bright enough to see everyone's faces and flying creatures. "Being surrounded by ornithologists, such as Kate Walsh, I felt very informed and inspired," said group member Maddy Morgado. A variety of songs were used, including mating and contact calls. Barred owls were called farther into the woods, since they prefer wet lowlands. The great-horned owl was called in an open field, as it tends to be their hunting spot. Owls tend to mate in the winter, because they want their chicks to be able to eat in the spring when there is plenty of food to spare. 
Despite their efforts, the group was not very lucky this time. The Audubon member noted that because of how warm it has been lately, many owls may already be nesting. So, there are less birds out at night looking for mates. Although no owls were spotted, a great time was had!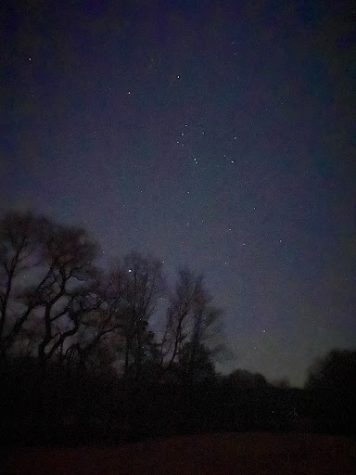 Leave a Comment