La Quinceañera de Hoy: A Blend of Traditional and Modern Culture
A quinceañera is the celebration of a girl turning 15 years old, and when she is recognized as a woman for the first time. It is celebrated among Hispanic and Latina girls, and it is a tradition that is believed to date back to as early as the 5th century B.C.  Many girls choose a theme for their quinceañera that represents them and their interests. One important part of the quince is the quince dress, which is commonly a longer ball gown in any color. A girl celebrating her quince has her friends as a part of her quince court, and the girls of the court are called Damas and the boys are called Chambelanes. Other quince traditions include a quince mass, a photoshoot, and a choreographed dance performed by the birthday girl and her court. Another tradition is the girl's father changing her flat shoes to high heels to symbolize her step from a girl into a woman. The girl is also given her last doll of her girlhood. A reception full of music and dancing follows the ceremony to celebrate the quinceañera.
As a class,  we watched A Quinceañera Story, a show about unique latina women celebrating their quinceañeras in America:
In the first episode we are introduced to Zoey; a transgender girl whose family was working to create her dream Quincenera. The 15-year-old Zoey preps for her 15th birthday by reflecting on how far she's come within her community as well as her growth into becoming a woman. She invites various trans women in the latinx community to celebrate the quinceañera they never had. She changed the way people see Quincenras in hispanic society by having the first one for a trans girl!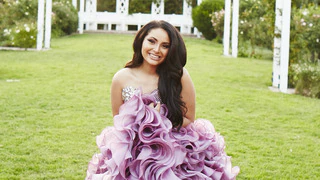 In episode 2, we learn that Rosi is a latina who is getting ready for her Quincenera in Cuba. She reflects on her family and how she isn't able to have one of her grandmothers in Cuba to celebrate her birthday. We follow Rosi days before her Quincenera in Cuba where she takes us through her family's hometown. With her mother being from Guatemala, father from Cuba, and herself from Florida, she combines these cultures to make her celebration unique. 
In episode 3, Ashley and her family plan a traditional quinceañera as she prepares for her first boxing match. She experiences many stresses while she races to meet the party-planning deadline. With her boxing coach standing in as her father figure, she has support in both areas of need. However, before the party, she faces the possibility of losing the support of her coach. He has a court order to determine his residency in the USA, and whether or not he can stay for the Quincenera. After a close call and nearly losing her boxing match, she comes out on top and can celebrate her quinceañera with two wins. She celebrated her big day surrounded by friends, and a dance with her loving Coach.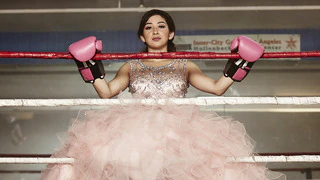 In the last episode, we meet Jackie and Nina who plan a joint Quincenera. Not only are they best friends, but they are also teammates on their Mexican horse-riding team. They plan to celebrate their heritage with friends, family and their fellow teammates. They shopped together for dresses, tiaras and many other things related to their special day. Instead of having a court, they have their all-female riding team. So, alongside their teammates and coach, who happens to be Jackie's father, the girls plan a riding routine to celebrate their transformation into women. They have their party at their ranch, so they can perform before the processions begin. They simultaneously celebrated and changed the culture of the Quincenera. 
A Quinceñera is not only a social event, it is also a religious one. It celebrates a girls entrance into womanhood at 15 and traditionally represents her readiness for marriage. The day starts off with a Catholic Mass and religious aspects are sprinkled throughout the entire event. It is generally accepted as a day of celebration for the girls Hispanic as well as Catholic culture. Because of this, a girls Quinceañera is much more than a birthday party. The combination of traditional and modern elements make every one unique to the birthday girl. They chose how they would like to enter womanhood and who they would like to enter it with. It is something that is deeply intertwined with the girls own personal identity and reflects this with the many different styles of parties. The practice of having a Quinceaneara is a tradition that withstands the test of time. It is an aspect of hispanic culture that will continue to unite everyone in the community, young and old.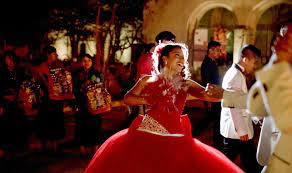 Leave a Comment