The Addams Family
The Old Lyme Player's production of The Addams Family concluded its four showings last Saturday with a number of heartfelt thank yous to the many people who helped the play come to being. Emotion boiled up in every speech of gratitude as the audience applauded and the cast members cheered, laughed, and cried. Watching this, I got a sense of the massive effort everyone involved put forward to make an incredibly well-done and entertaining musical.
The play opens with the pit orchestra's rendition of the Addams Family theme as smoke crawls out from beneath the curtain and a lone hand snaps to the beat. As soon as the curtain opens the audience is hooked and the action begins. The musical follows a dinner party to introduce the Beineke and Addams families as Wednesday, daughter of the Addams, has secretly planned to marry the son of the Beinekes. The drama of the two families, one from the midwest and the other, seemingly, from beyond the crypt, carries the characters through emotional dilemmas and revelations. An engaging parallel is drawn between the young couple and the parents of the Addams household, Gomez and Morticia, adding depth and emotional stakes to the musical's finale. All the while, a side-story plays out as Fester Addams, having fallen for the moon, schemes on love's behalf.
Driving the play, a more than competent pit orchestra, populated by LOLHS students as well as professional musicians, played in perfect compliment to the cast's musical numbers.
The set of the play was also very impressive. Two staircases framed the stage; throughout the play, they moved and changed to serve the different scenes. On many occasions, the stairs were implemented in choreography to house side stories or become the pinnacle of a scene. The backdrop was a clean New York City skyline, which, upon the finale, lit up in bright splendor surprising the audience with the perfect added flair. Other excellent set-pieces were a torture rack used to its fullest potential in a musical number and a chair that is revealed to have a hidden skewer in its seat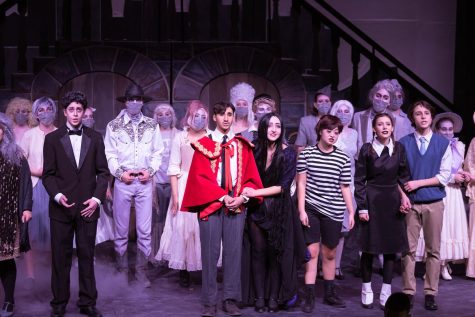 .
The acting and singing were also wonderful. Regrettably, I only saw the "green" cast perform, but I have heard from many accounts that the "red" cast was similarly arresting. Freakouts, accents, soliloquies, song, and dialogue were all performed without a hint of discomfort (except, of course, when intentional). Some of the most memorable moments were Gomez's long monologues full of well-timed jokes and vivacious character, Lurch's break from grunts and groans into beautiful song, and a particularly audible slap from the mother of the Beinekes. 
This year's musical was a joy to watch thanks to the hard work of everyone involved. Though I'm sure the play's success is a bittersweet joy to the cast's graduating seniors, they can take pride in the legacy they have left in The Addams Family.
Leave a Comment